We partner with high integrity local producers and fulfillment partners to make your farm-to-door meals sustainable start-to-finish. Read about the wonderful farmers, ranchers, fisher-people, makers and fulfillment partners we work with below: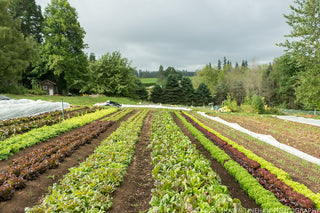 Flying Coyote Farm
Flying Coyote Farm is a Certified Organic farm located 30 miles outside of Portland in Sandy, Oregon on the unceded territory of the Clackamas band of the Upper Chinook Tribe. Established in 2013, they grow 8 acres of vegetables using a mix of mechanized and bio-intensive growing practices and manage the rest of their acreage through rotational grazing and cover crop rotations. They farm year-round, rain, sun or snow and enjoy the hustle and hard work of growing food for our community.
Flying Coyote Farm is passionate about growing the highest quality food with a focus on flavor and unique heirloom varieties. For them, growing food is an essential and radical act that leads to healthier communities, land, and people.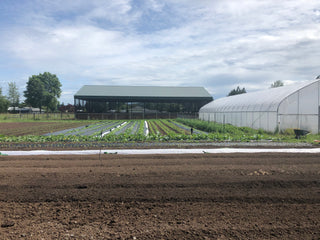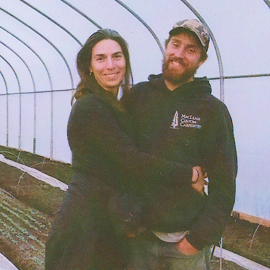 Farm D'ici
Farm D'ici is a Certified Organic farm located 35 miles south of Portland in Canby, OR on the traditional territory of the Molalla first nation tribe. Helmed by farmer Noémie Messier-Guimont, Farm D'ici is a small one acre project specializing in French, Italian, and Asian vegetable varieties with an emphasis on chicories, mesclun salad mixes, and edible flowers.
Originally from Quebec, Canada, Noémie has been farming for over 10 years and has an extensive knowledge of growing organic vegetables from her experience on farms here in the states and in British Columbia. She is especially passionate about her salad greens and garlic, growing at least 6 imported varieties of garlic each year.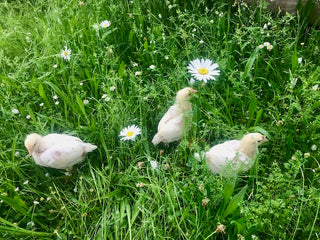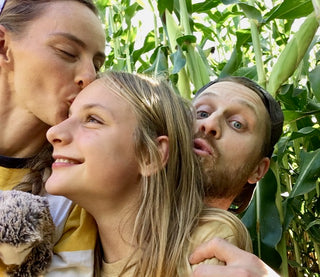 Totum Farm
Totum Farm is a grass-fed, hormone & cage-free livestock farm located in Blodgett, OR. Run by husband and wife team, Jessie and David Blume, Totum is committed to bringing humanely raised pork, chicken, and beef to the Portland metro area and beyond. Jessie and David started their farm in response to food allergies their daughter, Emmie, was diagnosed with at a young age. In an effort to thrive as a family in both body and soul, they were determined to raise their own meat as humanely as they could imagine.
Each year, Jessie and David fall in love with every batch of chicks they pick up and their pigs all have names before they even step foot on the farm. Their small cattle herd is carefully chosen and tended and their turkeys receive first class choir practice with Emmie, their conductor. The family members at Totum Farm are role models for all of us in navigating the meat eating world with compassion and respect for every animal.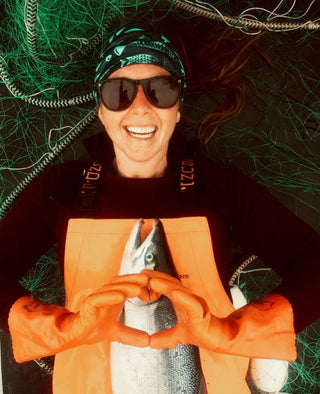 The Fish Princess
Each year The Fish Princess migrates to Bristol bay, Alaska to greet one of the largest and most sustainable wild sockeye salmon runs in the world. The Fish Princess (aka Chani Little) catches her fish from a 32-ft drift gillnetter boat, and treats each catch with the highest respect and love!
Sockeye are wild caught, stored in refrigerated icy sea water, flash frozen with a sea-water glaze, and vacuum sealed for maximum freshness. She is happy to announce that Bristol bay just experienced the largest run ever on record of sockeye salmon the summer of 2022! All salmon is the highest quality sushi grade.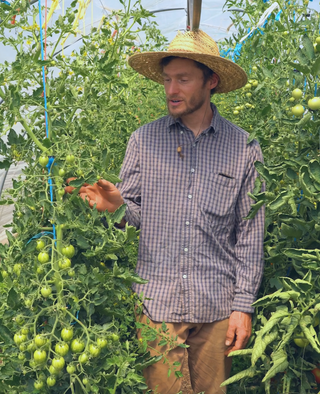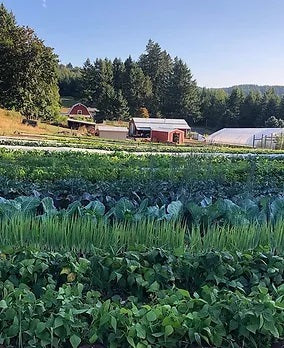 Olde Moon Farm
Adam McKinley started with the Olde Moon crew part time in 2021, and you may have seen him doing the market booth in Silverton in 2022. He now owns and manages the Olde Moon Farm business.
Adam, from Portland, OR, studied plant ecology and has farmed and/or practiced massage in Colorado, Kaua'i, and Oregon. He spent much of the last decade as a farm educator at GeerCrest Farm, wearing many hats. Moving on after a pandemic related shutdown, he returned to vegetable production at Olde Moon Farm and Diggin' Roots Farm. He's also managed micro goat dairies and has years of experience raising and harvesting animals.
His dream is to find balance in veggie, flower, and herb production with providing opportunities for education, personal and community growth, and healing.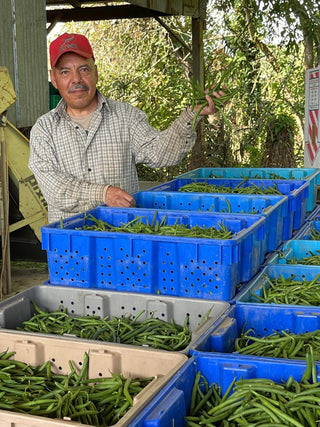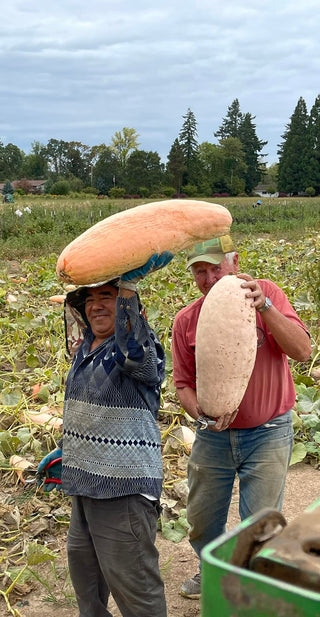 Sun Gold Farm
Sun Gold Farm is a small, sustainable family farm in the Tualatin Valley near Forest Grove, Oregon. They are located near the small Dutch community of Verboort, where four generations before them have farmed and cared for the land that was once part of the Atfalati native tribe. They have two natural wetlands on their farm and plenty of wildlife. Sun Gold grows vegetables, fruits, and plants. They love what they do for a living!
Sun Gold Farm is owned and operated by Charlie and Vicki Hertel and their son, Chris. Commercial crops are timothy hay and soft white wheat. Their primary source of income is through the production of fresh market crops that they sell farm fresh to consumers at various farmer's markets, home delivery, CSA, and through their online store. Their farm does not use GMOs. They are careful to grow their produce without pesticides. Crops are rotated for soil health, and since their farm was historically a dairy, there is plenty of organic matter in the soil. Weeds are controlled by mulching, rototilling, hoeing, and going down on their knees and pulling!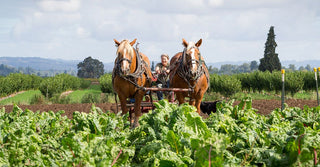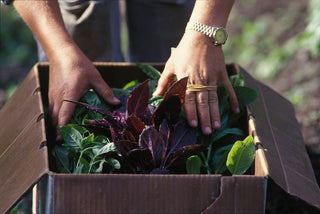 47th Ave Farm
47th Avenue Farm has been growing fresh, seasonal, and sustainable produce year-round for CSA shareholders and award-winning restaurants in the Portland-area since 1996. Their CSA (Community Supported Agriculture) began on a double lot within the Portland city limits with the simple goal of feeding friends and neighbors fresh, local produce.
47th Ave now grows vegetables year-round on 12 acres of land within the Portland Metro Area and 38 acres on Grand Island near Dayton. All farm properties are managed sustainably using cover crops between vegetable rotations, beneficial insects, drip irrigation and conservation tillage techniques. This holistic farming system improves the tilth and fertility of the farmland. It also protects the woods, wetlands and communities that surround our farms. And it simply makes better vegetables!
Fulfillment Partners

Building systems that create zero packaging waste, inspired by regenerative systems found in nature. Bold Reuse strives to design a better system for reducing waste through collaboration, redefining the future of packaging values, and serving the planet through the circular economy.
Click here for a list of packaging drop locations near you

A low-barrier contract manufacturer that incubates and scales BIPOC- and women-led businesses. Community Co-pack's community-oriented production facility flips the narrative on the co-packing experience and centers it on the maker, fostering a more equitable and inclusive consumer products industry.