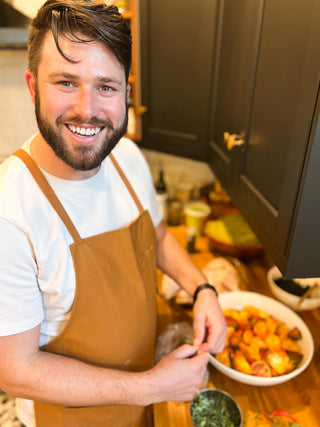 Founder
Darren Yondorf
Darren began his career in food at age 6, when he led quality control of beer nuts and pineapple juice for his folks' restaurant in Southern Oregon. Many years and many roles later, he is bringing his passion for shared meals, incredible ingredients, and seasonal sourcing home to Oregon.
In the years in between, he worked in fine dining, co-founded the agroecology non-profit Semilla Nueva, built online merchandising and last-mile delivery logistics for local producers at Good Eggs, and led supply chain and farm partnerships for Homegrown Sustainably Sourced.
During his tenure working in the food and agriculture industry, he has always had profound respect for producers using biodiverse and humane practices, operating with integrity, and positively impacting their land and communities. With the creation of The Minnow, Darren is working to partner directly with these types of businesses while expanding local eaters' access to seasonal abundance, heirloom varieties, new flavors, and the glory of sharing a freshly homemade meal.
Resident Chef & Farmer Liason
Josephine LaCosta
Meet Josephine LaCosta, our resident chef, recipe developer, and farmer liaison. Josephine has been cooking and living in Portland for almost a decade. She moved to Portland sight unseen after college and quickly fell in love with its experimental local food scene along with its rich community of farmers and small makers. An alum from some of Portland's top restaurants and food businesses (Ox, Olympia Oyster Bar, Portland Knife House), Josephine earned her stripes as a cook and decided to open her own business, Elbow's Catering, in 2019. When the pandemic hit, she pivoted and started working at Farm D'ici in order to understand the farming side of food service. Since then, Josephine has maintained long lasting relationships with her favorite farmers in the area, who she deems as local heroes.  She has worked with non-profit organizations like Growing Gardens and Meals On Us in an attempt to bring farmed produce to underserved communities and raise awareness around food waste and the every day challenges that small farmers face in our local food system.
At The Minnow, Josephine hopes to build long-lasting relationships with farmers by consistently purchasing their products and sharing their stories. She is also working on a recipe database which will educate consumers on how to cook seasonally, with the freshest food farmers have to offer.